Edge of the Earth Quad Adventure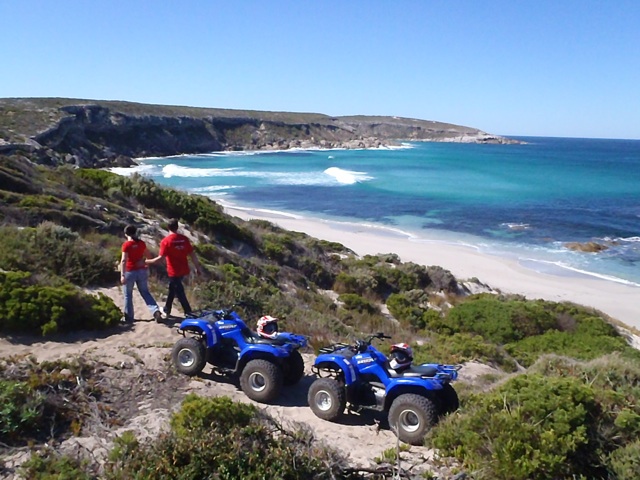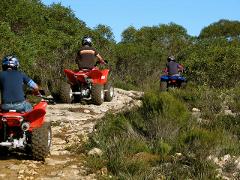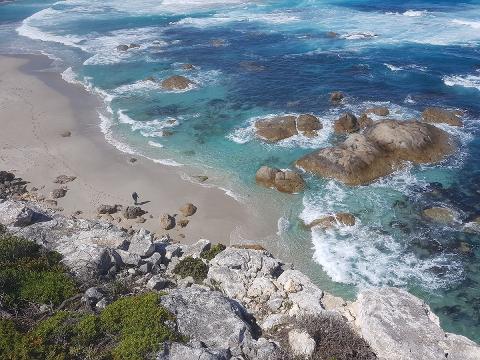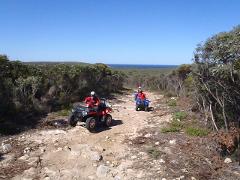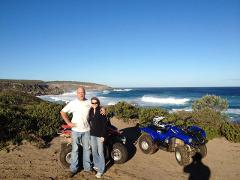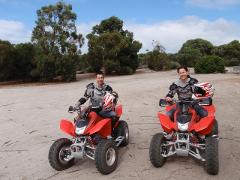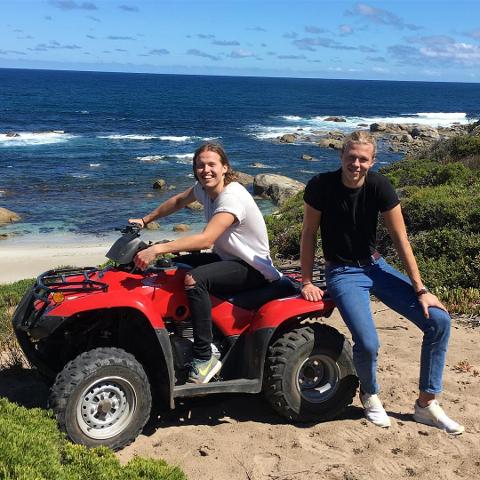 Duration: 180 Minutes (approx.)
Location: Vivonne Bay, SA
Product code: EOE
Join us on the only quad tour that can take you to the Edge of the Earth. This is the best way to get some adventure into your holiday.
Located at beautiful Vivonne Bay, enjoy some of the most picturesque scenery on Kangaroo Island with views of the Southern Ocean, a visit to a remote beach which has been rated as one of the top 100 surf beaches in Australia, and ride through the natural scrub which is home to hundreds of wallabies, kangaroos and other wildlife.

Need to Know:

Welcome to the Extreme Quad Adventure. We provide helmets, goggles gloves, and the latest bikes from Honda, Yamaha and Suzuki. All you need to bring is a camera, long pants, closed shoes and a sense of adventure.
All tours start with getting the safety gear on before we head out to the practice track. Following instruction on safe riding and operation of a quad, you will do laps of the practice track until you feel safe and comfortable.
Then you'll head off on tour with an experienced guide. This tour is suitable for everyone from first time to experienced riders, and every tour is adapted to the riders abilities. Minimum age for a rider on the Edge of the Earth Quad Adventure is 10 years, younger participants can take part as a passenger with the guide.

The Adventure:
The first part of the tour is along an open trail, giving you time to get comfortable on your bike before we go through some winding bush trails, there's big sandy berms which are great fun to ride on, through the trees is our favourite section of track.
The tour then heads through some farm land which is flat and smooth, giving you the chance to ride quicker, you get to go as fast as you feel safe and comfortable, but at no time is there any pressure to keep up with other riders. There's plenty to see along the way, depending on the weather and time of year we can see kangaroos, wallabies, koalas, goannas, echidnas and eagles. As this is the longest tour on offer, there's a much higher chance to see more wildlife.
After driving through grassland for a while and making a few stops along the way, we ride through the awesome yacca trails, winding through the bushes and heading toward our rougher tracks. The quite technical rocky trails take you down to the coast, the trails vary from smooth to rough, with big sweeping corners and rocks, there's lots of variety.
Arriving at the coast you'll be visiting one of Australia's top 100 surf beaches with an immaculate view of the Southern Ocean that very few people see. Occasionally we see surfers, but it's so remote and inaccessible that few people know about it . We'll have time to walk on the beach, and this is where, if you're lucky, you'll get to see some endangered birds including Hooded Plovers, the White Bellied Sea Eagle, Sooty Terns and Pacific Gulls.
Cape Kersaint is a special place, and we do our part to help keep it beautiful by picking up any rubbish that gets washed up with the tides. The guide will provide a bag to take back any rubbish we find.
There's more stops on the way home, with each tour customised to your interests and riding style.
This is the absolute best tour we do, you won't feel disappointed, you will feel it the next day and you'll know that you've turned your holiday into an adventure. Cheers!

Our Guarantee:
Still not sure? We are so confident you will enjoy your experience with us, that we also give an outrageous 11 point guarantee:

100% Customer Satisfaction of Do The Tour Again And Get Your Money Back GUARANTEED!
We Can Train You To Ride Safely GUARANTEED!
Environmental Sustainability GUARANTEED!
All Tours Operate In All Weather - We've Got The Gear For You To Stay Dry GUARANTEED!
You Can See Australian Native Animals In Their Natural Environment - Wildlife Viewing GUARANTEED!
No Minimum Numbers - We Will Run A Tour Just for You GUARANTEED!
Flexible Time & Date - Change Your Booking For Free GUARANTEED!
Small Group with Personalised Service GUARANTEED!
Quality Equipment - We Have The Best Gear For You GUARANTEED!
Local Knowledge - If We Don't Know, We Know Who Does GUARANTEED!
Stay In Contact and Provide Excellent Customer Service GUARANTEED

For more detail about the guarantees, visit this link.